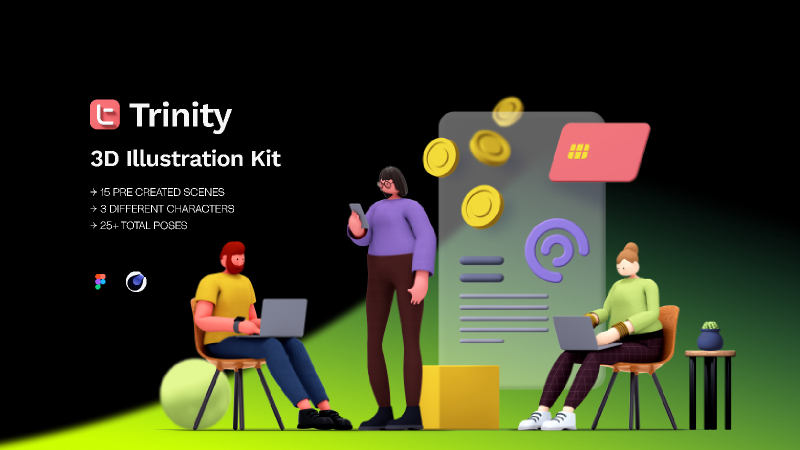 Trinity 3D Illustration Kit Figma Free Template
Trinity 3D Illustration Kit Figma Free Template.
Trinity is a powerful and carefully crafted 3D illustration system with all the tools you need to create amazing scenes for websites, Marcom graphics, app experiences, and more.
Adapt object colors with an intuitive theming experience in Figma and open your eyes to the infinite scene-building possibilities.
Or, edit object elements and our elegantly rigged characters directly in Cinema4D.
What's included in the full pack?
Features:
- 15 Pre Created Scenes
- 90+ Drag and Drop Elements
- 9 Decorative Primitive Shapes
- Adaptable Colors
Characters
- 3 Different Characters
- 25+ Character Stances
- Rigged Characters in Cinema4D
Easily Build Scenes For:
Teamwork, Project Management, Roadmapping, Blockchain, VR, Drones, Ecommerce, Design, Development, Security, Customer Support, Marketing, Remote Work, Messaging, Music
And so much more
Downloadable Files
Figma, Cinema4D, PNG 0.5x, PNG 2X
Start building your own scenes with Trinity 3D elements.
Download
Free license: Licensed under CC BY 4.0