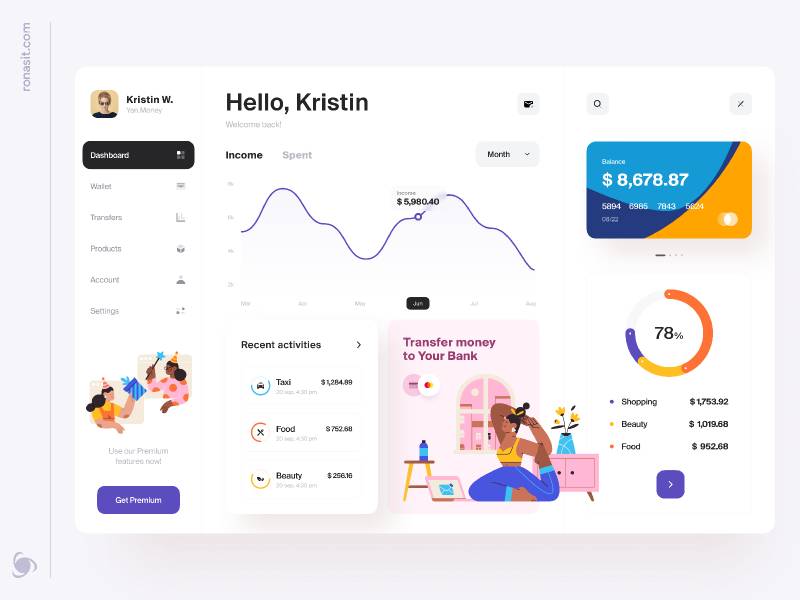 Free figma Finance Dashboard (Ronas IT)
There are lots of budgeting apps on the market. However, most of them may seem overwhelming and difficult to get started to beginners.
That's why we've decided to create a budgeting app design concept for people who are just starting. The goal of this product is to become a simple helper in managing savings. The app provides statistics on different accounts, associated income and spendings.
The shot shows a dashboard with a line plot of money spent and earned with a date filter; recent activities with a button that takes a user to all activities screen; a sidebar and tips about app's features. The service suggests tips in accordance with the user's actions. If the user's saved quite a sum within the app, it offers to transfer it to a user's bank. By clicking on the tip block, the user will see a step-by-step instruction on how to do it.
As the service is aimed towards young users, it is striving to create a light and simple atmosphere. Illustrations and bright colors help to make a serious process of budgeting more fun, while customized greeting with a user's name makes the app appear more friendly.
The key feature of this design is the ability to scan the most important information about an account summary quickly and on one screen.
Download
Free license: Licensed under CC BY 4.0