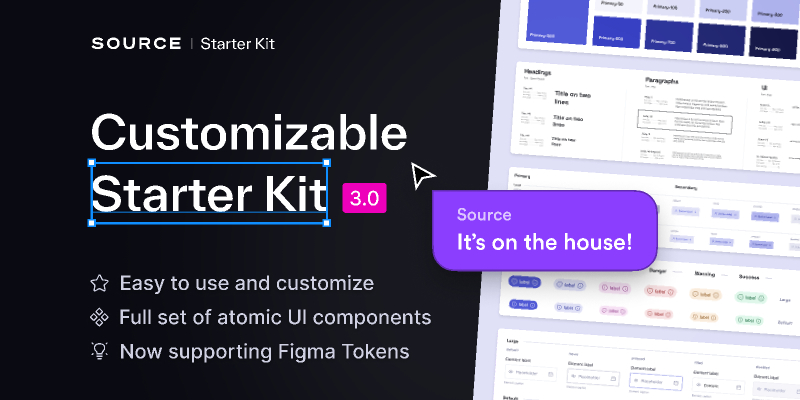 Source Starter Kit 2.0 Free Download
Source Starter Kit is a free and customizable starter file for your Figma projects.
It will help you kickstart your next design system with atomic and interactive components built following industry standards.
Features
Built using Figma Tokens plugins for lightning fast customlization
Component properties: lighter library, easy to maintain, customize and enrich
Built with DesignOps mindset: clear styleguides, reusable components, auto-layout & resizing
Documentation, tutorials & best practice contents for easy onboarding
Free & regularly updated
Components
Button, Input, Text area, Dropdown, Radio & checkbox, Search, Date picker, Label, Tag, Badge, Table, Avatar, Toast, Modal Dialog… And more to come in the next updates!
Support
Any question, suggestion or request ? Let us know here in comments, we'll answer ASAP
Don't forget to follow us on Twitter (@source_paris) for updates
If you find our starter kit useful, support it by leaving a like or comment here
About Source
Source is a Bureau of Design & Technology on a mission to make corporates and startups more capable through state of the art digital solutions.
Download
Author: Benjamin Chareyron
Free license: Licensed under CC BY 4.0